Digitalizing value streams through Industrial IoT and Azure cloud for competitive advantage
Thomas Concrete Group has been in operation since the 1950s. The concrete industry itself is still considered as a very traditional sector with various moving components which can influence the successes in the market, which leads to Thomas Concrete Group's decision in digital transformation through IoT enablement. This transformation opens opportunities in improving customer experience as well as capability to scale.
Challenge
Concrete projects tend to face delays at the operational level due to the old fashion system. Communication is handled rarely with real-time information and the lack of automation creates a significant level of inefficiency.
In the case of Thomas Concrete Group, Axelsson recognizes two IIoT opportunities that can elevate the data value for the concrete industry:
1. From supply side: timing of deliveries – implementation of real-time tracking
2. From customer side: real-time monitoring of the concrete curing process
Another challenge that is face is the statistical fact that says up to 75 percent of IoT projects fail (according to Cisco research) and why 30 percent don't even make it out of the proof-of-concept stage (according to Microsoft), but Axelsson understands that this is due to the difficulty to get it right without a data layer built for the use case and data type a specific workload calls for.
With this level of understanding and years of experience in the field of digitalization, Axelsson's team built the solutions for Thomas Concrete Group which have improved their operational efficiency by several folds.
Actions
Backed by the right data-layer strategy, digitalization and IoT can help industrial organizations optimize their supply chains, more quickly add new services, and drive more value based on their existing data. To assess the advantages IoT can deliver, industrial businesses should look at crucial segments of their supply chains to identify where information is most critical, and how digital access to that information might improve either operations or customer experiences.
Solving challenge 1 – real-time tracking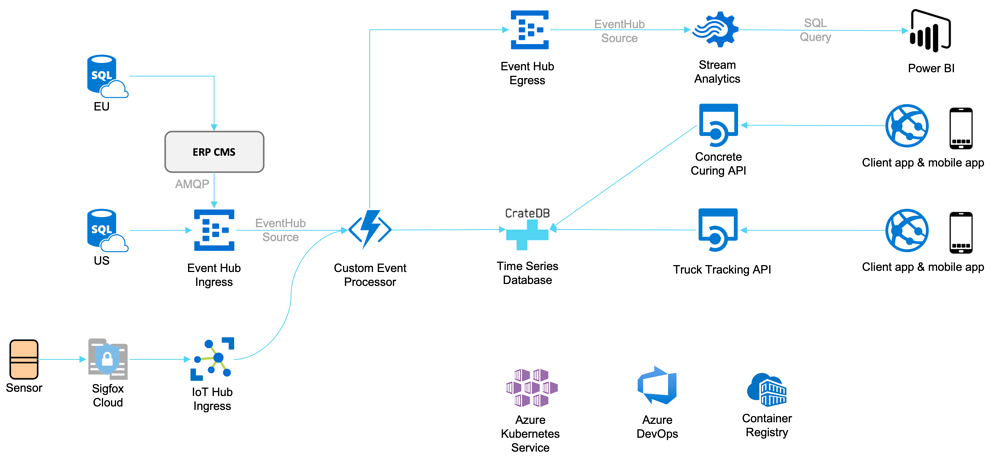 The timing of concrete delivery at the construction site is very important for Thomas Concrete. Previously, customers had to call the factory about the location and estimated time of arrival of the truck in order to obtain this information. Therefore, we created a solution implementing an IoT strategy that allows specific deliveries to be tracked real time.
By making specific truck GPS locations and ETA data available to customers digitally (via an interface that displays the truck location on Google Maps), customers can run their operations more efficiently. Customers get all the information instantly on their computers and mobile phones, eliminating the need to call Thomas Concrete for delivery information.
Upon understanding the need from the client, Axelsson together with Thomas Concrete engineers selected CrateDB as their time-series database. The choice is due to the database requirements which have been defined in accordance to the success of the project, such as scalability, high performance during data ingestion and resiliency against failure.
https://19927462.fs1.hubspotusercontent-na1.net/hub/19927462/hubfs/wp-content/uploads/2020/11/Screen-Shot-2020-11-25-at-7.04.07-PM.png?width=1000&height=459&name=Screen-Shot-2020-11-25-at-7.04.07-PM.png
The IoT solution architecture resulting from integrating CrateDB in the Azure ecosystem (Azure Event Hub) has been implemented successfully, with 11 million data points ingested into CrateDB while keeping the queries as short as 0.009s.
Solving challenge 2 – real time monitoring
Through the experience in the market, Thomas Concrete sees the importance of curing concrete for their clients, as it will influence the final strength of the concrete.
By introducing real-time monitoring of the concrete curing process, it opens new opportunities to improve the customer experience by allowing them to know and understand the strength of the concrete, providing them with the valuable information about the readiness of the concrete mix. Together with Axelsson, Thomas Concrete made real-time monitoring possible by deploying IoT sensors in specific combinations, allowing customers to monitor the curing data online and know exactly when concrete has hardened properly.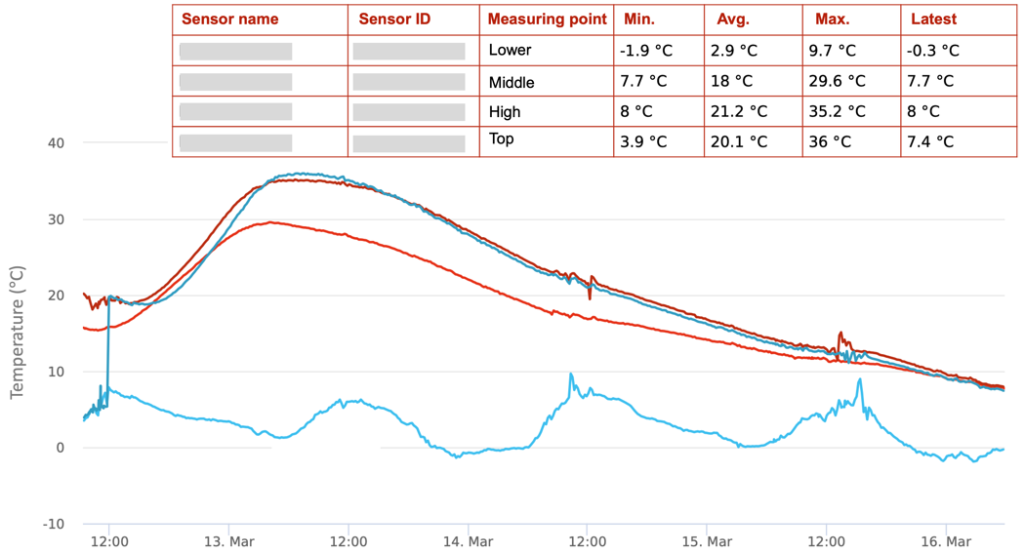 By understanding the value of this process, Axelsson identified the database requirements such as high data volume ingestion of the temperature and also data loss prevention to determine the curing process as precisely as possible. Again using CrateDB together with Azure IoT Hub, Axelsson and Thomas Concrete team designed cloud-to device communication solutions where all of the data transmitted by the sensors can be read, processed and stored almost instantaneously.
This innovation changes the outdated process of generating the report manually using background jobs, which has been proven to be inefficient due to the delays in certain scenarios and may cost the customers to redo the process. By deploying the modernized legacy software solution designed specifically for this purpose, customers can now generate the report in real-time at any time anywhere simply by pressing the "download" button, allowing construction projects to proceed without delay, saving time and money.
Providing solutions for these two challenges was not a piece of cake. Our team met with engineers who developed the database and had them answer a list of detailed technical questions as part of our rigorous selection activities. We believe this step is absolutely important as it allows us to understand the database functions, performances as well as limitations, which we will take into account during the solution design process. Investing the time to make the right decisions from the beginning is foundational to future success, and will enable you to fill your industrial IoT data stack with appropriately powerful technologies that match the unique needs of your solutions.